Over the past few months, there has been a substantial increase in the price of silk. My scarves are large in scale: 140 x 140 cm (55 x 55 in). Most designer scarves, at their largest, are only 90 x 90 cm (35 x 35 in). Thus, mine are two and a half times that size, and my costs are similarly much larger.After January 1, I must increase the price. Now is your chance to purchase quality silk wraps at a ridiculously low cost.
The silk used is of the highest quality with silk twill weaving. The printing techniques are state of the art. These scarves are heavy, durable, and for this coming winter, warm.
These silk works of art, just as all my previous artworks, have multiple overlapping, interweaving layers of content, meaning and visual elements. Complexity of their design and content matches the complexity of our own thought processes. Background information about the inaugural series of scares can be viewed by clicking on Inaugural A and Inaugural B.
Besides the inaugural series of 14 scarves, I have created additional designs which are available. The scarves can be obtained by clicking HERE. 
After payment is received, in stock items will be shipped by USPS within a week. Otherwise, delivery within the US will take place in 4 to 6 weeks. International orders are welcome, but delivery will take longer.
Don't miss this opportunity. The price will only keep going up.
Wishing you and your family a happy and healthy holiday season, and a fulfilling New Year.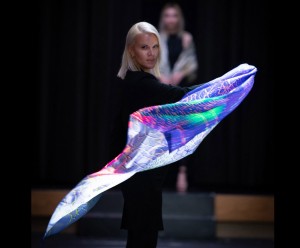 Linkiu  linksm ir sveikų švenčių bei sekmingų Naujųjų metų.
Nuoširdžiai, Sincerely, Audrius