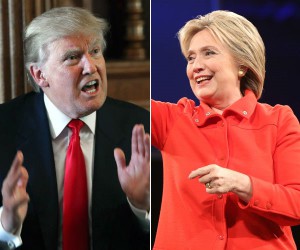 Donald Trump has taken a lead over Hillary Clinton for the first time in the average of national polls, Real Clear Politics reports.
Trump is averaging 43.4 percent compared to Clinton's 43.2 percent.
Rasmussen Reports has the largest Trump lead at 42 percent to 37 percent.
CBS News/New York Times has the largest Clinton lead at 47 percent to 41 percent.
Over the last few weeks, Clinton's advantage has been slipping as all the Republican candidates in the party's primary suspended their campaigns except for Trump, while on the Democratic side Clinton continues to battle Bernie Sanders for the nomination.
Politicususa downplays the significance of the recent polls, citing recent evidence that Trump's advantage is only a predictable bump after most Republicans have begun rallying around his campaign after he all but won the nomination.
In the 2012 race, Mitt Romney was leading President Barack Obama in the polls after Rick Santorum dropped out of the Republican primaries. And in the 2008 campaign, the same phenomenon happened as John McCain led Obama after he had clinched the Republican nomination but Obama was still battling against Clinton in the Democratic primaries.
Breaking News at Newsmax.comhttp://www.newsmax.com/Politics/Trump-Hillary-Clinton-polls/2016/05/22/id/730092/#ixzz49UfcCC39
Urgent: Rate Obama on His Job Performance. Vote Here Now!